Background
As the population ages, and with people's increasing awareness of health care, the demand for home medical devices is growing. At the same time, with the rapid penetration and development of technologies such as the IoT, medical motives are also showing a trend of multi-level diversification.
In recent years, the market demand for home medical devices has been steadily increasing year by year, especially in the field of testing, rehabilitation, and health care. Various types of intelligent medical devices have become essential products for families. In the home medical industry, users pay more and more attention to product customization and diversification, in addition to the basic needs of product health and safety. The diversity and variability of user needs of home medical devices lead to short life cycles and diverse functions of home medical products. The diversity and variability of user needs of home medical devices lead to short life cycles and diverse functions of home medical products. This article introduces the classification of home medical devices and their market mass development status and trends. This article will mainly introduce home medical devices and their market status and trends.
What are Home Medical Devices?
A. Definition
Home medical devices, i.e., medical devices that can be used outside of medical facilities such as hospitals and clinics. These devices can be provided for repeated use by non-professionals such as patients themselves or family members or caregivers. Home medical devices are essential to every home, and simple medical devices are commonly found in almost every home.
Common drug delivery devices include those for measuring liquid forms of drugs like cough medicine, and splitting devices for cutting pills. Household first aid devices include thermometers (including in-ear, oral, forehead, and rectal), heating pads, snakebite kits, and bandages. Other medical devices mostly used for household are assistive devices and durable medical devices. Assistive devices are usually mobility aids (e.g., wheelchairs, walkers, canes, crutches) or sensory aids (e.g., eyeglasses, hearing aids). There are also other common assistive devices, such as prosthetic devices (e.g., artificial legs or arms) or orthotic devices (e.g., shoe inserts, leg braces). Durable medical devices include devices for the specialized environment, such as specialized medical beds, toileting aids, personnel lifting, and transfer equipment, etc.
Lately, a number of medical devices are being produced as consumer products, enabling people to manage their health care more easily and independently at less cost. For example, a variety of blood and urine test kits can be used to detect different chemicals and conditions (e.g., illicit drugs, cholesterol, pregnancy). People can use different types of meters or monitors to measure some health indicators, such as blood glucose levels or blood pressure (especially for diabetics). Consumer devices include those for monitoring blood oxygen levels (pulse oximeters) and sleep apnea.
B. Types of Home Medical Devices
The range of home medical devices is very wide, and the following table shows the main types and examples.
| | | |
| --- | --- | --- |
| Type | Purpose | Example |
| Instrumentation/ Monitoring Devices | Such devices are focusing on monitoring purposes, and usually connect with mobile phone or other platforms through Bluetooth, GPRS, WIFI and other means to achieve real-time data updates tracking | Multifunctional therapeutic instrument, dynamic blood glucose meter, dynamic fetal-voice meter, ECG monitor, sports watch, sleep monitoring equipment, etc. |
| Healthcare Massage Devices | Healthcare devices for disease prevention | Pain massage equipment; electric massage chair / bed; massage pillow; massage stick; massage whack; fat-shaking belt; foot massager; massage cushion; massage chair; massage bathtub; massage belt; foot bath; foot physiotherapy instrument; hand-held massager; blood circulation machine; kneading cushion; beauty apparatus; breast enlargement apparatus |
| Testing Devices | Used to test a certain kind of data and make a diagnosis of a disease | Thermometer, blood pressure meter, oximeter, blood glucose meter, fat measuring instrument, female pregnancy testers, etc. |
| Rehabilitation Medical Devices | Rehabilitation effect for certain types of diseases | Cervical spine treatment equipment, home cervical vertebra tractor, traction chair, physiotherapy instrument, functional bed, brace, medical inflatable air cushion; oxygen machine, hearing aid, etc. |
| Home Care Devices | Assistive therapy devices | Home rehabilitation care aids, female pregnancy, and infant care products, home feeding and gas delivery equipment; oxygen cylinders, oxygen bags, home first aid kits |
Home Medical Device Market Size & Challenges and Opportunities
A. Market Size
According to Precedence Research study reports, the global home medical devices market size is USD 35.7 billion by 2021. The global home medical devices market is showing a growing trend due to the increasing aging population and rising prevalence of various chronic diseases such as cancer, diabetes, cardiovascular diseases, and chronic obstructive pulmonary diseases. The market is expected to reach $62.1 billion by 2030, at a CAGR of 6.34%.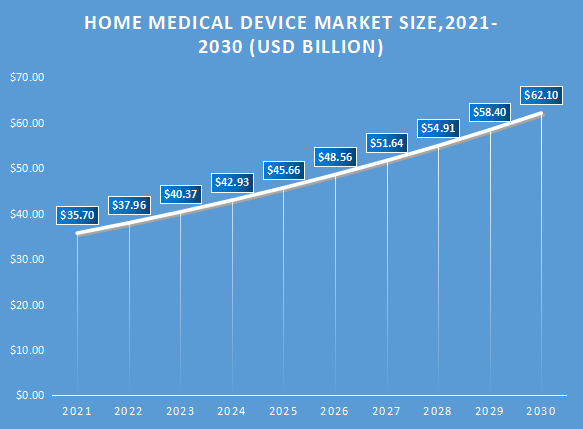 North America dominates the global home medical device market with roughly 41% of the market share in 2021. However, in the next forecast period, the fastest growing region will be Asia Pacific, with a CAGR of 7.8%. The emergence of many home device manufacturers in countries such as China and India is further driving market growth. The increasing prevalence of various chronic diseases and the growing geriatric population are driving the demand for wheelchairs and other home healthcare solutions.
B. Opportunities
We all know that home medical devices have the functions of prevention, diagnosis, and health care rehabilitation. They are more portable, simple to operate, and compact compared to medical devices used in medical institutions. And with the promotion of technology, more and more companies are developing in the direction of portable and wearable devices.
In the future, portable home medical devices will become mainstream. As people rely more and more on technology, lightness, practicality, and simplicity of operation will definitely attract high attention. The portability of home medical devices will be the strong driving force of the future medical device market. Portable home medical devices need to achieve a large number of performance in a smaller device. At the same time it needs to be able to process more complex analog and digital signals more accurately. There are higher requirements in terms of power consumption, reliability and safety of the products, which require manufacturers to continuously commit to technological innovation and progress.
Intelligence and convenience will be the basic requirements for developing home medical devices. At the same time, it will be an inevitable trend to connect home medical devices and medical institutions for remote patient monitoring and other intelligence.
Traditional home medical devices are simply a collection of parameters. But with the penetration of innovative technology, smart home medical devices are more powerful. These parameters are recorded at any time to become information for users to understand their own health and disease prevention. Also, they become big data for doctors to judge the condition and improve the accuracy of diagnosis. Such smart home medical devices are bound to be more popular. And with the strengthening of popularity, smart home medical devices will enter thousands of households and appear in each of our families.
C. Challenges
International large medical device manufacturers have rapidly occupied the market, especially the market of high-end medical device products, by virtue of their strong capital, superior brand, advanced technology and concentrated talents. So the competition of this market is very intense and there is greater competitive pressure.
Medical device products are related to human life and health. Governments have strict regulations and management on market access for such products. For example, FDA registration in the U.S., CE certification in the EU, "Application for Accreditation of Foreign Manufacturers" in Japan, GMP certificate in Korea, etc. It is difficult for medical device companies with low technical levels to obtain such registration or certification.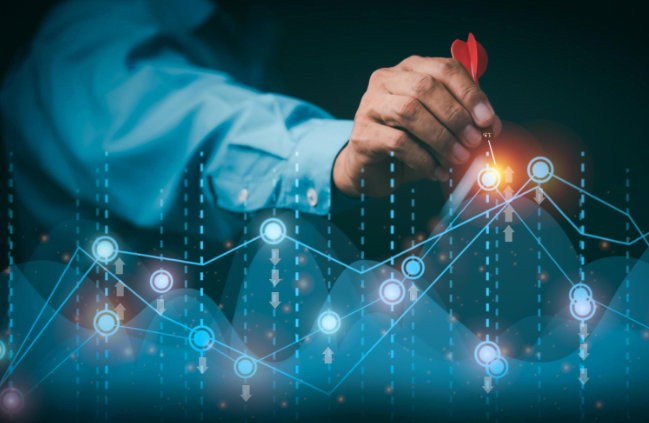 Home medical devices are consumer-oriented. Customers are particularly concerned about product quality, accuracy and stability due to a large number of manufacturers. The brand of the medical device industry reflects the quality, stability, and design level of products. The creation and formation of a well-known brand require long-term investment and the accumulation of enterprises. Also, it requires the continued trust and reputation of distributors and downstream medical institutions.
For some families, some specific medical devices are very expensive. And as demand grows, some devices can experience market shortages. If these devices are not covered by reimbursement policies, people may not be able to afford the high prices. Even if they are partially reimbursed under Medicare, people may still not be able to pay all the costs.
What Should You Need to Pay Attention to Before Purchasing Home Medical Device?
1. Purchase and use under the guidance of professionals
The purchase of home medical devices should be under the guidance of a doctor. Medical devices are used to diagnose and treat diseases, so you should listen to your doctor's advice before purchasing and use them under the guidance of your doctor.
2. Read the product manual
When you purchase medical devices, please read the product introduction and manual carefully. Ask the professionals and find out the mechanism of action, method of use, scope of application, contraindications, precautions, etc. Then purchase the right devices and use them according to the doctor's advice and your own situation.
3. Check the qualifications
Before buying medical devices, first of all, we must carefully check whether the operating unit holds relative business licenses and certificates. Do not buy from individuals or units without the above-mentioned licenses.
4. Check the product qualification
Medical devices are mainly Class I and Class II medical devices. Check the product classification and qualifications before purchasing.