Background
After entering the 21st century, the level of science has significantly improved. And the progress of science and technology has also promoted the development of medical technology. The continuous development of medical electronic devices has provided protection for people's health and promoted the harmonious progress of society. With the advancement of technology, portable medical devices have been developed and are gradually gaining popularity among the public. Portable medical device plays an active role in the treatment of people's diseases. The purpose of this article is to introduce portable medical device and their applications. In the meanwhile, we will analyze its future development trend.
I. The Development Status of Portable Medical Devices
Portable medical devices have a wide range of applications in reality and can effectively treat people's disease problems and bring health to the people. Devices such as sphygmomanometers, digital thermometers, and blood glucose testers make medical treatment easier and reach higher efficiency of treatment.
The portable medical device mainly uses advanced equipment so to achieve effective treatment. They are very different from the previous medical devices since they are the upgrading product of the update of traditional medical devices. This type of equipment has the advantages of small size, high functionality, high reliability, and low energy consumption. Some devices can even move freely, expanding the field of medical treatment and bringing more convenience for effective medical treatment.
With the development of the economy, people's living standards continue to improve. And while the material life of the masses is guaranteed, many people have begun to turn their focus to their own health status. However, traditional medical devices is too complicated to provide effective medical treatment at all times. The development of science and technology has led to the emergence of various medical devices, which have solved the problems existing in traditional medical devices and facilitated the development process of the medical community.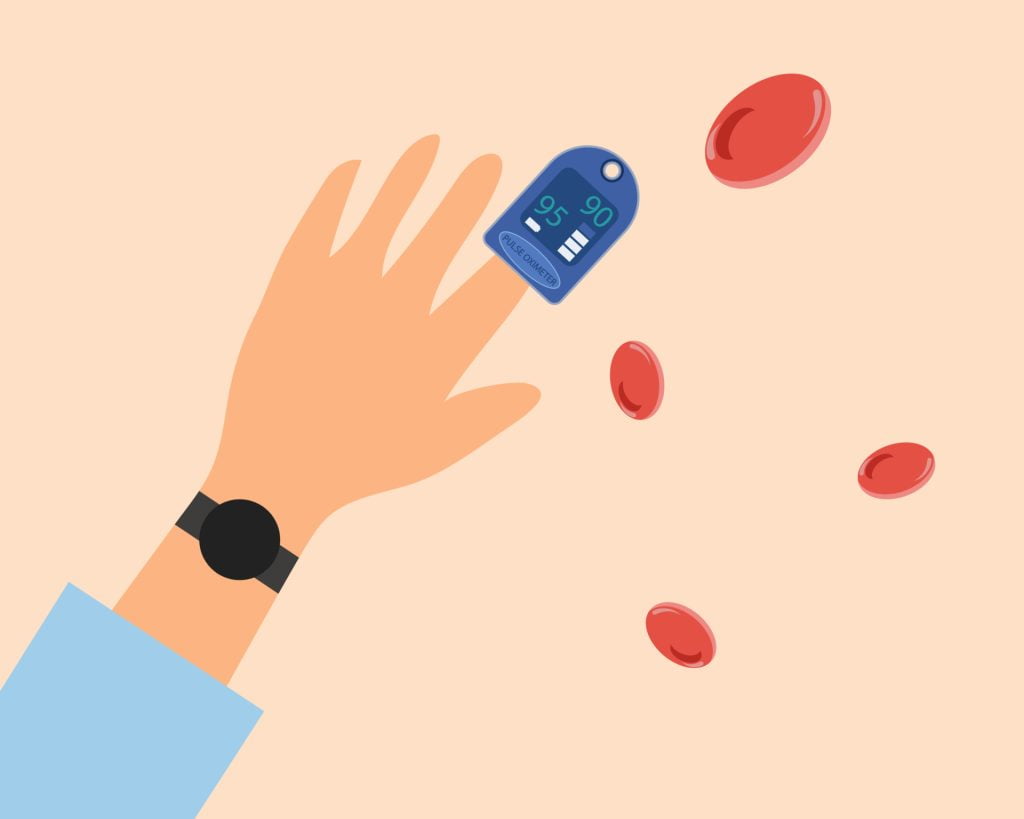 In foreign countries, the origin of the portable medical device is earlier. With its fast development, it is now in a gradually matured stage. There are two types of portable medical devices. One is medical devices for medical use, and the other type is medical devices for home use. The main difference between these two types is their difference in the field of use. Medical devices for medical use mainly include monitors, portable ventilators and defibrillators, etc. Home medical devices mainly include digital hearing aids, portable multifunctional skin beauty devices, sphygmomanometers, etc.
II. Challenges of Portable Medical Devices And Their Solutions
1. Users do not have the relevant expertise to use it effectively
Portable medical devices are emerging medical devices. The effectiveness of its use can be influenced by different factors. First of all, it will be affected by the age of the user. For the elderly, many older people are unable to understand the principles and methods of portable medical electronic devices. Their relatively slow receptivity can easily lead to errors in use. For children, they often need parental assistance in using medical devices. If they use the device alone from their parents, they will inevitably make operational errors. To solve such problems, it is necessary to familiarize users with the operation method in advance, as well as to clarify the appropriate use of the environment. These will greatly reduce the occurrence of operational errors. Medical professionals need to increase their knowledge of portable medical devices to help family members better use the devices for routine testing.
2. There are certain differences in the functions of different devices
Portable medical devices from foreign countries have been developed for a long time, and the technology is mature. The specifications and technology of most foreign medical devices do not vary much. Family members can understand the usage pattern of most devices through one brand of products. However, in China, due to the late development of technology and not mature enough, domestic portable devices vary widely, whether in terms of specifications, models, or functions. Moreover, foreign portable medical electronic devices are small, and simple to use process. Users can quickly and accurately determine the physiological condition of the patient and have a high value of use.
3. The safety and effectiveness of the portable medical device
There are still safety risks of portable medical devices. These risks include side effects from the use of the medical device, the life cycle of the device and other hidden risks. This has caused a certain degree of worry and concern among the public. They would not be able to fully trust portable medical devices. The most direct solution to this problem is to continuously improve the safety of medical devices. We also need the support and interest of the general medical sector to avoid medical safety issues.
III. Portable Medical Devices Market Share
1. Market size and Forecast
According to Acumen Research and Consulting survey report, the global portable medical devices market size reached USD 37.2 billion in 2019 (* before the emergence of the pandemic). By 2021, its market size grows to $39.3 billion. The global portable medical electronic devices market is expected to reach $80.6 billion by 2030. That means that it can reach a compound annual growth rate(CAGR)of 8.5%. The main factors and key drivers of the portable medical devices market growth are the increasing geriatric population and the increased incidence of diseases such as heart disease, stroke, and atherosclerosis.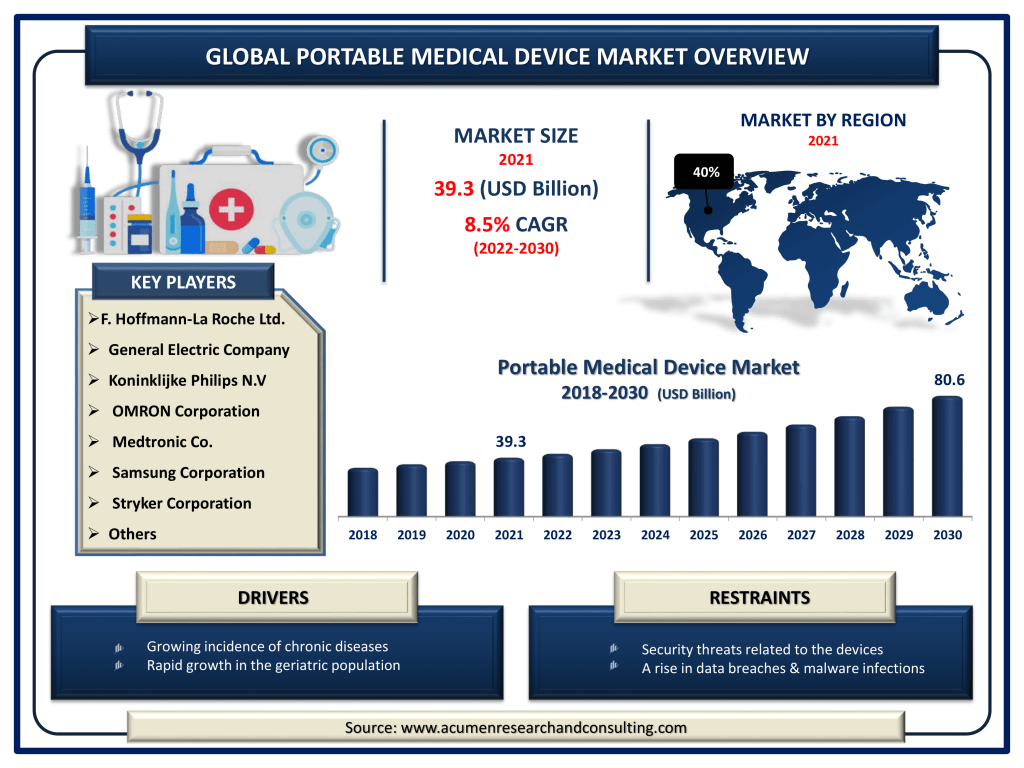 The key players in the portable medical equipment market are F. Hoffmann-La Roche Ltd., General Electric Company, Koninklijke Philips N.V., OMRON Corporation, Medtronic Co., Samsung Corporation, and Stryker Corporation. Most of them use a strategy of partnerships and acquisitions to develop new solutions and new products and to expand their global reach.
2. COVID-19 impact on the Portable Medical Device Market
COVID-19 provides a huge market for the portable medical device. Its appearance has prevented people from being able to visit a hospital or clinic whenever they are sick. As a result of COVID-19, hospitals and patients are choosing to postpone non-emergency surgeries and also reduce the use of medical devices. But this has also led to an increase in demand for portable medical devices in hospitals, clinics, and homes. During the pandemic, oximeters, glucose meters, and portable oxygen cylinders became hot sellers in the market.
IV. Trends in Portable Medical Devices
1. More intelligent and networked
Nowadays we are in an information society. Computer technology has penetrated into all aspects of people's lives. Portable medical device to the direction of intelligent development is an inevitable trend. People should take advantage of the power of the Internet itself to develop medical care, thus strengthening the extension of portable medical devices. In addition, portable medical technology should be targeted, with product development for different populations.
2. More collaborative
With the development of the times, health is gradually becoming an important topic in the world. And more and more companies are joining the competition for medical devices. In the future development and application of portable medical devices, China can carry out technical cooperation with developed countries. The cooperation and development of national medical devices will gradually become an important direction for the development of medical electronic devices in the future.
3. More individualized and home-based
Due to the pandemic these 3 years, portable medical device is gradually moving toward home use. With the combination of advanced telecommunication technologies such as IoT and other internet technologies, portable medical devices will help people get rid of traditional medical modes. In the future, portable medical devices will be no longer for hospitals and other medical departments, but also for individuals and home use.
ABOUT MOKO MEDTECH
MOKO has more than 10 years of experience in the medical field and we provide the most reliable medical devices to our customers in different markets. As a manufacturer, we are committed to providing our customers with one-stop OEM services for medical electronics. In order to meet the strict quality requirements of medical products, we have a strict quality control system to ensure that every device handed over to our customers is of high quality and guaranteed. We are qualified to provide end-to-end solutions for many applications in the medical industry, such as medical imaging, medical devices, and medical diagnostics. Contact us for more information about medical devices.