Women's health is at the heart of a healthy world. Fortunately, there are a growing number of companies committed to providing critical forms of healthcare for all women through Femtech health — from reproductive health and gynecological services to mental health and mammograms. In the past few decades, healthcare products have been designed with little attention to the biological differences between the genders. But now with the rise of FemTech, people are developing products that target women's health and improve women's lives through a variety of solutions. Investors who invested in FemTech when it first emerged have been among the biggest proponents of health technology companies focused on women's health conditions. Since 2016, there are more and more venture investments in FemTech and the trend is good, but FemTech health still faces a lot of challenges.
With women's health in the spotlight, how are FemTech Trends?
With so much attention currently being paid to the women's health sector, FemTech companies are also undergoing tremendous change. These companies are innovating on traditional standards of care through new medical devices, care delivery models, and community-building platforms that are often digital. But only since 2017 have late-stage clinical trials been mandated to include validated analyses by gender. In the U.S., the female entrepreneurial community has set its sights on healthcare. And likewise, for the industry itself, there are so many products and services for women.
The analysis shows that capital and media focus more on pregnancy and childbirth support, reproductive health, breast health, and other related hotspots. In the past, there was little public discussion about women's health and reproductive issues. Today, however, femtech startups have mainstreamed these issues.
FemTech Analytics released Global FemTech Industry Report Q2 2022 (the "Report") last year, which incorporates information and data from more than 1,400 FemTech companies, a large number of investors, and several community organizations worldwide. Through statistical analysis of extensive data, the report states, "The FemTech market offers tremendous opportunities for entrepreneurs and investors. And with its tremendous growth potential, this is an exciting time to be involved in this fast-growing industry."
Regarding the latest trends in the development of the FemTech industry, we can learn the following sets of core information and facts according to this report.
1. Global Distribution of FemTech Companies by Region
North America dominates the global FemTech market in terms of a number of companies, with over 50% of the total. The region is booming, with new startups and research targeting Femtech health growing rapidly. Europe comes in second with 27% of the volume, followed by Asia (9%) and the Middle East and North Africa (6%). This is shown in the chart below.
The countries with the highest number of FemTech health companies are the United States, the United Kingdom, Israel, India, and Canada.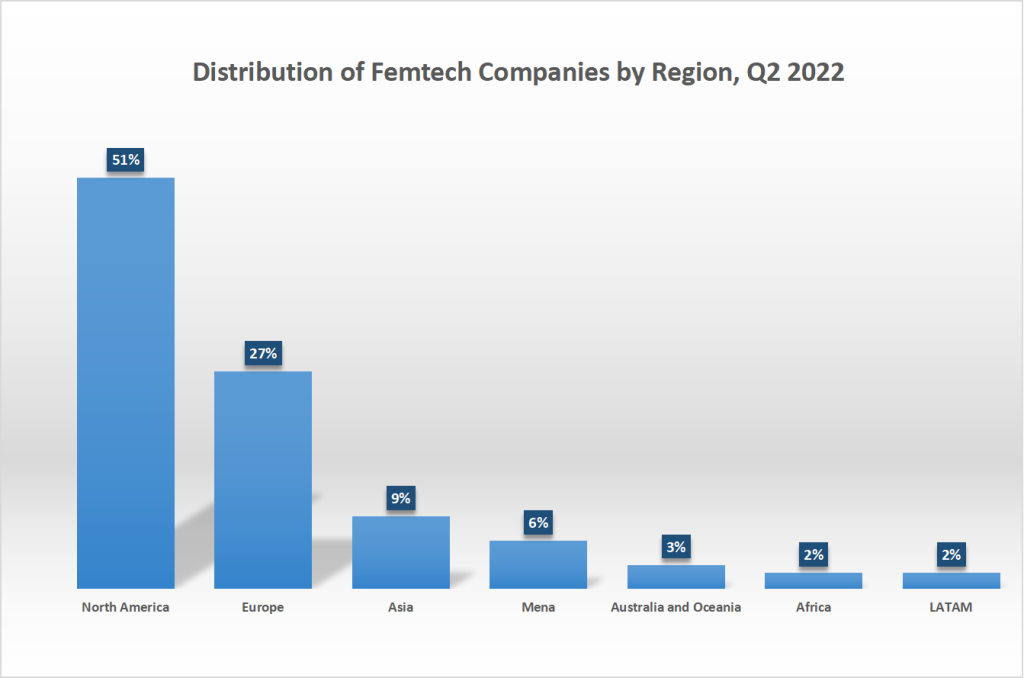 2. Number of FemTech Companies by Sectors
FemTech health products range from fertility tracking apps to menstrual tracking underwear. The main application scenarios or sub-categories can be grouped into 10 areas, as shown in the chart below.
Among the 10 scenarios, "pregnancy and Nursing", "Reproductive Health and Contraception" and "Menstrual Health" have the largest market size, accounting for 20%, 17%, and 14% respectively. These three parts account for half of the FemTech industry. The percentage of the number of companies in each segment is shown in the chart below.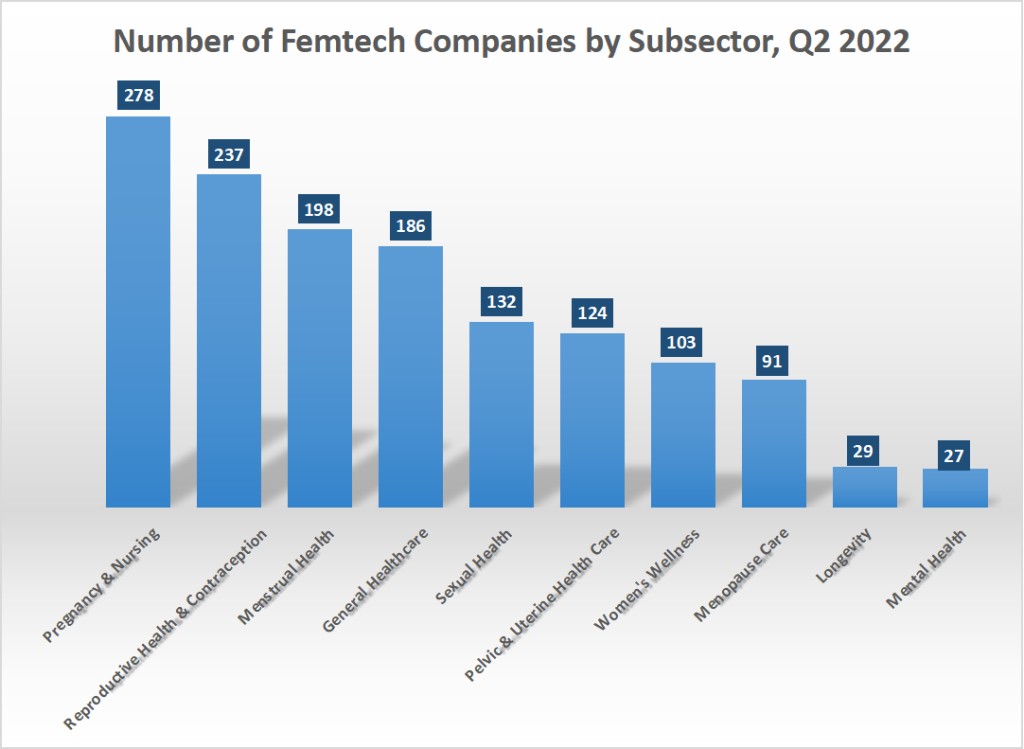 3. Distribution of FemTech Companies by Product Type
FemTech companies developed a variety of advanced and exclusive consumer products to meet the health needs of women at every stage of their lives. For example, menstrual products that are safe for the body and the environment, maternity products, menopause health products, functional surgical recovery garments, innovative hygiene, and intimate care, comfortable custom-made clothing, and more. Therefore, this type involves the largest number of companies, accounting for 19% (261 companies). The details are shown in the chart below.
The other two types include devices, which address pelvic and uterine care issues, pregnancy testing, breastfeeding, fertility tracking and birth control, and app/software, which are used primarily for pregnancy and parenting, reproductive health, and general women's health issues. The number of related companies accounted for 17% (245) and 16% (221), respectively.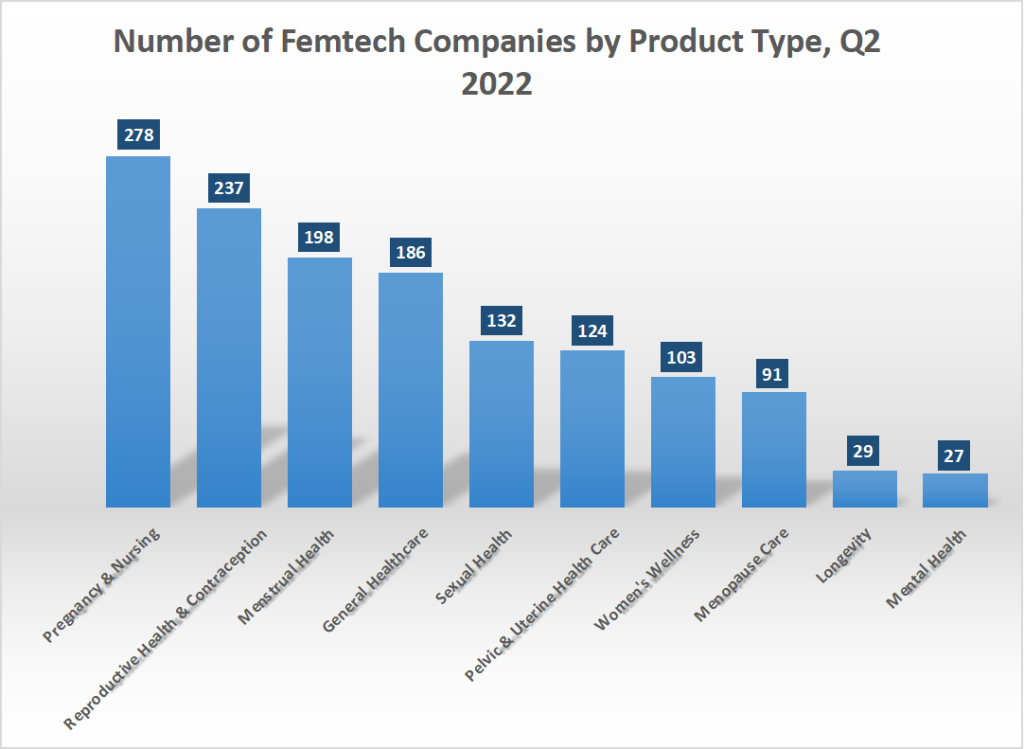 4. Distribution of FemTech companies by sales revenue.
The majority of FemTech companies are either small startups that have not yet achieved revenue or are companies in early-stage development with less than $1 million in annual revenue (39%), while 45% of companies have revenue estimates in the $1-10 million range.
5. FemTech Health Investors and The Flow of Funds
Over the past few years, many companies have undergone significant improvements and changes. The more FemTech-focused companies there are, the more industry investment there will be, resulting in new players and decision-makers in the global FemTech market. In terms of the regional distribution of investors, the number of FemTech health investors (focused on FemTech companies) in the U.S. leads the way with nearly 63%. The number of investors in Europe, Asia Pacific and the Middle East, and North Africa accounted for 20%, 8%, and 2% respectively.
What Challenges Will Femtech Health Face?
The development of FemTech is changing the way women live and manage their health. Modern healthcare still does not adequately address women's health, care, and wellness, and FemTech health promises to put women in control of their bodies and their lives, helping them overcome many challenges in healthcare and research. From the lack of data on women in general, to bias and discrimination in health research, data sets, and algorithms, FemTech has made great strides in involving women in the design and development of such systems. But FemTech still has significant security and privacy concerns, and many aspects are still not under regulation. Given the highly sensitive nature of the data handled by FemTech technology, these issues could lead to disaster.
Data privacy issues
This issue has been around since the advent of FemTech. An app called Flo shared millions of users' data about menstruation, fertility, and pregnancy with companies like Google and Facebook over the past few years, despite their privacy statements claiming to protect the privacy of user data. In June 2021, it introduced an "anonymous" mode that allows users to access all features of the application without entering their names and email addresses.
In December 2018, Privacy International reported that several popular menstrual apps regularly shared user data with Facebook. Of the 36 apps tested, 61% were found to automatically transfer data the moment a Facebook user opens the app. In a review of 24 FemTech health-related apps in 2019, 67% of apps were found to share user data with third parties to serve ads. In some cases, the lack of proper security and privacy protections can put human lives at risk.
Limited data available for women's health issues
According to the survey, there is less research available on how men's and women's health status differs. Available data specifically on female fertility and reproductive health issues are also limited. Therefore, FemTech startups prioritize inclusive research to stay relevant and create innovative solutions to address the complex health conditions of their target users. There is room to develop the way women's health is recruited, matched, and compensated in clinical trials. And there is a need to involve more women in health research.
For example, after realizing the lack of data on vaginal microbiome health, the company Evvy launched a program last July to collect and test vaginal microbiome samples from women in their homes. Startups like Evvy are enabling their patients to learn more about their gynecological health with at-home test kits that can reveal a user's risk for diseases like toxic shock syndrome and uterine cancer. Such solutions contribute to general research on women's health while enabling individuals to learn more about their own bodies.
FemTech Health Market Is Still A Blue Ocean
Even though FemTech still faces many challenges, it has great potential and a promising future. The current market research data also seems to validate this. If the FemTech market is to expand and grow, there needs to be more technology companies that provide real health benefits to women, rather than a few abusive health management applications. As women's voices are increasingly heard and more women take their place in managing businesses and investing more and more opportunities will open up for FemTech.