What is home oxygen concentrator ?If a patient need long-run oxygen therapy throughout the day and night due to diseases like lung problems and heart failure, a medical doctor may prescribe a home oxygen concentrator(HOC).
As other types of oxygen concentrators, HOC extract and filter the air in the surrounding environment to generate pure oxygen with an increased oxygen concentration. Although home oxygen concentrators are similar to other medical devices used for oxygen therapy, such as oxygen tanks and portable oxygen concentrator, these devices differs from the use of electrical pumps to filter out nitrogen and concentrate oxygen levels.
In common, home oxygen concentrators required a electricity outlet when you want to receive therapy. The best place to use it is exactly within one's home. They usually weigh between twenty-two to thirty-five pounds, though this can vary greatly according the device materials and designs. Thus, home oxygen concentrators is inconvenient to carry out door. Fortunately, with the maturity of the medical device market and technology development, lighter stationary concentrators are becoming increasingly available. What's more, many convenient designs for HOC are launched, such as built-in handles, wheels for promoting mobility throughout the home.
Home oxygen concentrators generally feature a clear display screen which showcases oxygen levels, oxygen modes, timers and other data. Other outstanding points include a filter, which collects and purifies the air surrounding, as well as tubing and a face mask, which ease the process of breathing in purified air.
Unboxing your Home Oxygen Concentrator
When you receive your home oxygen concentrator, it is advisable to place it next to the wall outlet you plan to plug it into. After unpacking, put the invoice and packaging aside for future needs.
In your package, there may be:
Unit
·Accessories of this device
User Manual
Invoice
Humidifier bottle
If you have questions about your machine or accessories, please refer to your user manual.
Get Connections Ready
Attaching the filter
After setting up your household oxygen concentrator, make sure the filter is connected firstly. Some devices require you to install the filter on your own. In this case, you just take action under the guidance of user manual.
Installing the humidifier bottle
Because wearing a continuous flow of oxygen can dry out your nose and upper respiratory, it is recommended to purchase the optional humidifier kit.
Firstly, fill the humidifier bottle with distilled water rather than tap water.
When the bottle is full of clean water, please attach it on the device. If your device has a Velcro strap around the humidifier bottle, press the strap to make sure the bottle in place.
Then, connect the air tubes to the humidifier. The short one should be connected to the concentrator, while the long one should be linked to the humidifier bottle.
Plugging the Device Into An Outlet
Once your humidifier is stable and the filter is inserted well, you can plug the device into an outlet. It is proper to keep your device six to twelve inches away from curtain, furniture and walls. Don't forget to check your manual for further safety guidance.
Only when you plug it into electrical outlet, can your home oxygen concentrator work in formal. If the power fails or if your device is unplugged, the device will make a warning by sound.
In case of accidental power failure, it is advisable to have a backup source of oxygen, like portable oxygen concentrator or oxygen tank, especially for patients who needs continuous supplemental oxygen.
Turning On Your Device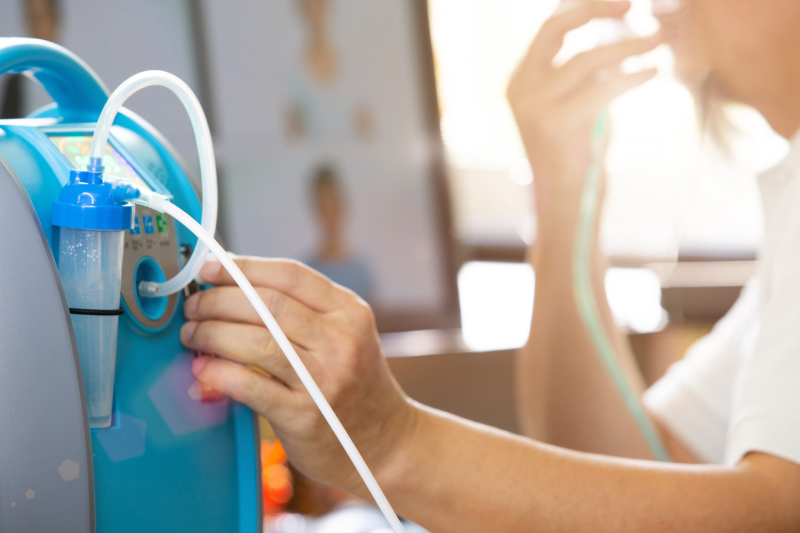 To switch on your device, please press the power button. Some devices have switches or buttons that requires a short, long or double press. If you're not sure about yours, check your manual.
Setting Your Flow
Your certified doctor will prescribes your a specific oxygen flow volume per minutes, which can be described by liters per minute (lpm). If your prescribed flow is "3 lpm", set the flow meter to the number three. Some old oxygen concentrator still has an traditional flow meter. The number in place where middle of the ball stay is the real-time liter flow .
Keep in mind that too much oxygen is poisonous for our body, so do not change your liter flow without any instruction from certified doctor.
Connecting Your Nasal Cannula or Face Mask
At first, connect your mask or nasal cannula to your home oxygen equipment. Before putting it on your face, you can approach the oxygen outlet on the nasal cannula by your fingertips to ensure it gets oxygen through. Then, were the it on your face.
Standard nasal cannula can hold up to six litres oxygen per minutes. If you need LPM over than 6, make sure your air tubes can hold it up.
Generally speaking, home oxygen concent rators are compatible with oxygen tubing up to fifty feet. Some even can use up to 200-feet-tube. This information about suitable length of tube can be found in user manual. Some devices come with accessory tube to extend the length of your cannula, but you still can buy additional tubing in proper size through your oxygen provider if you need it.
Be careful not to trip over your tubes when you walk around your home. Some patients buy tube in bright green to raise attention. I think this idea is not bad.
Some hospitals additionally prescribe nebulized therapy to patients who receiving respiratory therapy. We can confidently say that these two therapies can be serve by only one device. Some versatile device have two therapy system and outlet. One is for nebulizing therapy, the other is for oxygen therapy. As user, you just need to connect the tube port to the nebulizing output and choose proper mode on the display of the screen. It is not so difficult and you can check your manual for guidance in detail.
Home Oxygen Concentrator Maintenance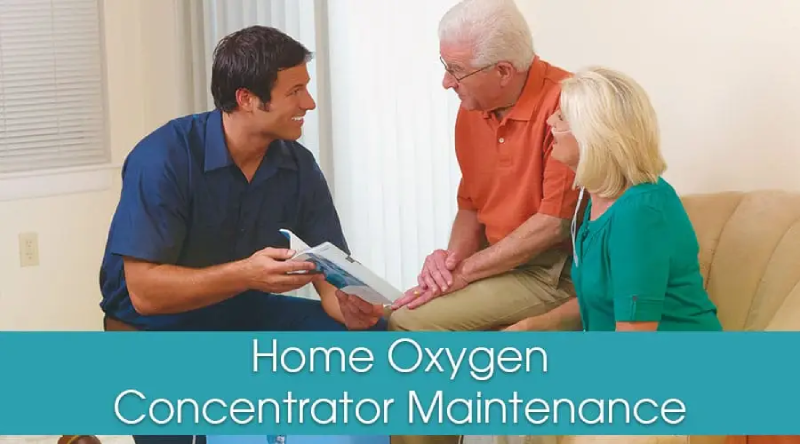 After finishing home oxygen therapy, it is necessary to maintain the device and accessories to keep it running sustainably. In addition to checking your manual for specific instructions, here are some suggestions for cleaning and maintenance your oxygen concentrator at-home.
Weekly Cleaning
It is advisable to wash your nasal cannula or mask by warm water and mild dish soap per week to make sure dirt inside are removed. Importantly, don't forget to dry out your cannula, mask, and tubing thoroughly to avoid wet condition where promote bacteria breeding. If your accessories break, you can buy them in proper size and shape from your oxygen device supplier.
Last, if you're sick during oxygen therapy, it is necessary to wash your nasal cannula or mask more frequently to kill the bacteria from your body but attach on the accessories.
Cleaning Every Three Days
Clean your humidifier bottle with mild dish soap and warm water each three days. Soak your humidifier in a vinegar and water mixture for a few minutes, so as to remove any bacteria left inside.Or, you can use your household washing and disinfection equipment to save your labor on frequent washing.
After washing and disinfection, don't forget to use a paper towel to dry the humidifier. Besides, only when finishing complete air drying, can you put away all the accessories.
Monthly Cleaning
Air filter inside the device should be cleaned and disinfected each month.
First, you need to detach the filter according to the manual instruction.
Then, prepare a bowl filled with mild dish soap and warm water. Put the filter in it and dip it for a few minutes.
It is a good idea to scrub it with a washcloth so as to remove dust or dirt. After washing the filter, rinse it under tap water and start air dry.
Or, if you are so tired about daily washing, weekly washing and monthly washing, we advise you to buy a smart washer to be your washing and disinfection assistant. So you can live an easy life without overwhelming washing housework.
Leaving Your Home with Supplemental Oxygen
Since home oxygen concentrators require an electrical power outlet to run, you should consider options for power cut in your block and leaving your home. Portable oxygen concentrators or small metal oxygen tanks are ideal backup options for home oxygen concentrator. Talk to your certified doctor  about choosing a right backup for you if you need oxygen therapy in a long run.
Q&A
Do You Need A Prescription For A Home Oxygen Concentrator?
To buy a home oxygen concentrator, you do need a prescription from certified doctor. The prescription may state about how much oxygen volume you need in therapy, what type of air flow is proper for you, etc,.The U.S. Food & Drug Administration (FDA) have made this regulation on prescription sales. In this way, oxygen concentrators became one of the medical devices that FDA requires a prescription.
What Is the Best Oxygen Concentrator for Home?
Moko Medtech Smart Bluetooth Oxygen Concentrator OEM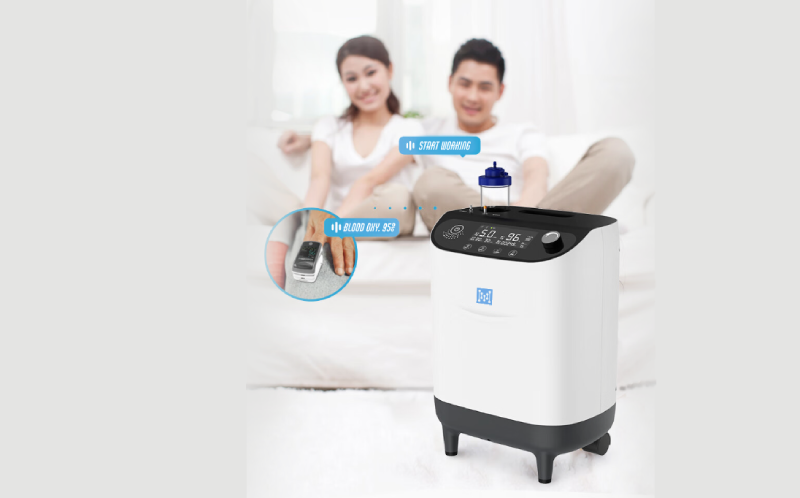 Moko Medtech HOC features smart Bluetooth technology, with similar basic therapy function as its competing products. You can pair the home oxygen concentrator with Moko Medtech oximeter and smart phone through bluetooth. If your blood oxygen decrease to 95%, the machine will automatically turn on and delivery oxygen to you. This smart function is very suitable for patients suffer from sleep apnea. If you don't need that function, just turn it on in the app. In addition, therapy time and LPM can be upload to your smart phone so as to keep record.
Nidek Nuvo Lite Mark 5-Liter Oxygen Concentrator B2C
The Lite Mark 5-liter oxygen concentrator is one of the quietest home oxygen concentrators on our short list. Coming with a large flow setting scale of 0.125 lpm to five lpm, this device satisfy various demand of many patients required oxygen therapy. Four wheels and a convenient built-in handle are very nice for users to move the device to anywhere at home. What's more, visual alarms is a good reminder for user to recognize any device malfunctions.
CAIRE Companion 5 Eco Oxygen Concentrator B2C
Generally speaking, home oxygen concentrators work for a whole day, how much power they require to run may count a lot for some users. The Companion 5 Eco draws on only two hundred and eight five watts of electricity when you set to continuous oxygen flow mode at two liters per minute, which may save more electricity costs for users. More and more, the Companion 5 Eco also has a wide range of flow settings, from half of lpm to five lpm, providing enough choice of oxygen supply volume to common users.
DeVilbiss 5 Liter Oxygen Concentrator B2C
The DeVilbiss 5-liter oxygen concentrator products possess a few similar features as competing products at a much more pretty price. Although it is not the quietest, lightest one, it provides five oxygen settings and all-day-long oxygen therapy at home. Besides, visual alarms are equipped in the device so as to notify malfunction and low oxygen delivery.
Is It Safe to Use Oxygen Concentrator at Home?
You are not allowed to use an oxygen concentrator at home unless it has been prescribed by a certified health care provider. It is risky to give yourself oxygen without talking to a doctor, since too much oxygen causes oxygen toxicity while too little oxygen results in short breath.
How Many Liters of Oxygen Can You Be On At Home?
Usually, you can be on five liter of oxygen per minutes at home. If you require more than 5 lpm, you are supposed to ask your doctor about high-flow concentrator with beyond six lpm.
How Long Do Home Oxygen Concentrator Last?
Home oxygen concentrator may last 4 to 7 years. In some cases, depending on how they are used and maintained, they can last even longer, .
What are the uses of Home Oxygen Concentrator?
Chronic bronchitis
Congestive heart failure
COPD (chronic obstructive pulmonary disease)
Cystic fibrosis
Emphysema
Lung cancer
Pneumonia
Pulmonary fibrosis
Sleep apnea
Can I Use My Home Oxygen Concentrator in My Car?
Yes, you can. However, you should know how a oxygen concentrator works. It takes air from surrounding space and filter the Nitrogen taking up 80% and retain 20% oxygen to purify and deliver it to you. In other words, if you are in a car which window glasses are closed, your home oxygen concentrator can not work and you may be in trouble.
Conclusion
Home oxygen concentrator is a wonderful medical device for the patients who need oxygen therapy in long term. If you want to purchase or customize home oxygen concentrator, please feel free to contact us.