FDA, i.e. U.S. Food and Drug Administration, regulates the sale of medical device products in order to ensure the effectiveness and safety of such products sold in the United States. Companies that want to legally sell medical devices in the U.S. market need to obtain FDA approval first. So how do you obtain this approval? This article will describe the entire process in detail.
I. What is FDA Approval?
The Food and Drug Administration (FDA) is an international medical audit authority, authorized by the U.S. Congress, i.e., the federal government, specializing in food and drug regulation of high enforcement agencies. FDA is a government health regulatory monitoring agency composed of professionals such as physicians, lawyers, microbiologists, pharmacologists, chemists, and statisticians dedicated to protecting, promoting, and improving the health of the nation. Products like food, medicine, cosmetics, and medical devices are guaranteed to be safe and effective for humans. In nearly 100 countries, including the United States, only materials, devices, and technologies that have passed FDA approval can be used commercially for clinical applications.
Since 1990, the U.S. FDA has been working closely with international organizations such as ISO to promote a series of innovative measures. Especially in the field of food and medicine, FDA certification has become a high testing standard for food and medicine in the world. It is recognized as a standard by the World Health Organization.
Therefore, many international manufacturers are pursuing to obtain FDA approval as a high honor and guarantee of product quality. FDA International Free Sales License is not only a certification in the U.S. FDA certification but also a high-pass certification of food and medicine approved by the World Trade Organization (WTO). These must be fully approved by the U.S. FDA and the WTO before issuing the certification. Once approved, the product will have unrestricted access to any WTO member country. Even in the marketing model, the host government is not allowed to interfere.
II. Products FDA Regulates
The FDA regulates a very wide range of products, including the following categories.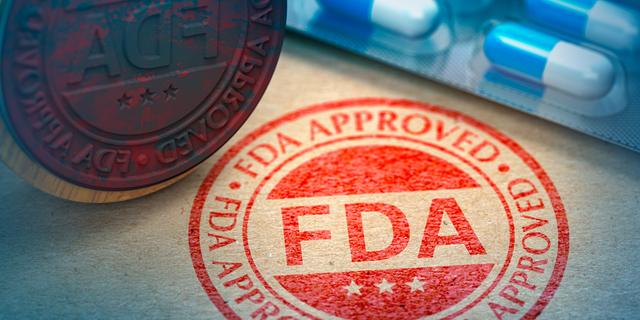 1. Food: Foods sale in the United States, including health food, drinking water, food additives, baby food, etc. (except for certain meat, egg products and poultry that are regulated by the U.S. Department of Agriculture).
2. Drugs: Raw and auxiliary materials for drugs, human vaccines, prescription drugs, over-the-counter drugs, etc.
3. Medical devices: Respirators, endoscopes, wheelchairs, electronic thermometers, blood pressure monitors, masks, protective clothing, etc.
4. Cosmetics: Skin care products, color additives in makeup, shampoos, and other skin cleansers, etc.
5. Laser radiation products: CT, X-ray equipment, microwave ovens, etc.
6. Food contact materials: Food contact material components and raw materials (various plastics, metals, ceramics, glass, bamboo and wood products, etc.)
7. Veterinary products: Livestock feed, pet food, veterinary medicine, etc.
For more details, you can check on the FDA official website.
III. The Role of FDA Approval
Any product regulated by FDA is closely related to people's lives. It protects the life and health of consumers while also preventing other undesirable products from entering the market. The entry of products that do not meet standards will make consumers confused. Consumers cannot tell whether the products in the market are safe and reliable. This will damage their legitimate rights and interests.
Because of the FDA regulation, people can choose and use products with less confusion in many cases. Therefore, consumers must consider whether the product is FDA registered (or approved/ cleared)when choosing a product. The following are a few of the main roles of FDA approval.
To protect public health and ensure that food entering the market is safe, healthy, and properly labeled. Ensure that medicines, veterinary drugs, vaccines, and other biological agents and medical devices used are safe and effective.
To protect the public from radiation from electronic products
Ensure that cosmetics and dietary supplements are safe and properly labeled
Regulate tobacco products
Promote public health by accelerating product innovation
IV. Why Do Medical Devices Need to Get FDA Approval?
The range of medical devices is very wide, which covers medical gloves to cardiac pacemakers. All medical devices sold in the United States need to be registered with the FDA and under FDA regulation. The FDA classifies medical devices into Class I, Class II, and Class III based on medical use and possible harm to the human body. (For more detail: FDA Medical Device Classification )The higher the Class, the more regulation it will receive.
FDA will specify the product classification and management requirements for each medical device, and there are currently more than 1,700 kinds of medical devices in the FDA medical device catalog. Any kind of medical device wants to enter the U.S. market, must first clarify the application for listing product classification and management requirements. If the product is a new invention that does not exist in the marketplace, FDA will require the manufacturer to conduct rigorous human trials with compelling medical and statistical evidence of the product's effectiveness and safety.
The FDA has a tremendous influence in the United States and around the world, and is known as the "patron saint of American health". FDA's reputation and professionalism are trusted by many experts and the general public. And its rigorous testing and evaluation provide good protection while also causing a lot of criticism from drug and food manufacturers. They accuse it of hamstring innovation and hindering the population's access to potent drugs. But this practice has not affected the FDA's sacred guardianship and fulfillment of its mission and duties. Currently, the FDA has become a diamond shield in the hearts of food and drug consumers around the world.
V. How to Get Your New Medical Device to Market
1. Verify your product
Before the application, please verify whether your product is a medical device.
2. Verify medical classification
Confirm the classification of devices, make clear the management requirements and confirm the pre-market submission type.
Once the device classification is determined, the type of premarket submission under the appropriate FDA regulations must be selected. Common types of premarket submissions include:
– 510(k) (Pre-market Notification)
– PMA (Pre-market Approval Application)
– De Novo (Automatic Class III designation evaluation)
– HDE (Humanitarian Device Exemption)
– IDE (Investigation Device Exemption)
Class I and most Class II devices require a 510(k) submission. During the 510(k) submission process, the applicant must demonstrate that the new device is substantially equivalent to the comparison device in terms of intended use, technical characteristics, and performance testing. Some Class I and II devices are exempt from 510(k) if they fall within the exemptions described in 21 CFR 862-892.9. These exemptions are listed in the 21 CFR classification rules and are also assembled in the Medical Device Exemption Document.
The submission method required for most Class III devices is a PMA, which is a more stringent type of premarket submission. Prior to FDA approval of a PMA, the applicant must provide valid scientific evidence to demonstrate the safety and effectiveness of the device for its intended use.
De Novo provides a way for new devices without valid comparisons to be classified as I or II if such new devices meet specific criteria.
HDE provides a regulatory pathway for Class III devices, which are expected to be beneficial to patients with rare diseases or conditions. To qualify as a Humanitarian Exempt Device, applicants must obtain a Humanitarian Use Device (HUD) designation, which can be obtained by submitting an application to the FDA's Office of Orphan Products Development (OOPD).
IDE is a clinical study for investigational devices, primarily for the protection of human patients. It requires approval through the Institutional Review Board. The safety and effectiveness data collected will need to be submitted in order to apply for marketing.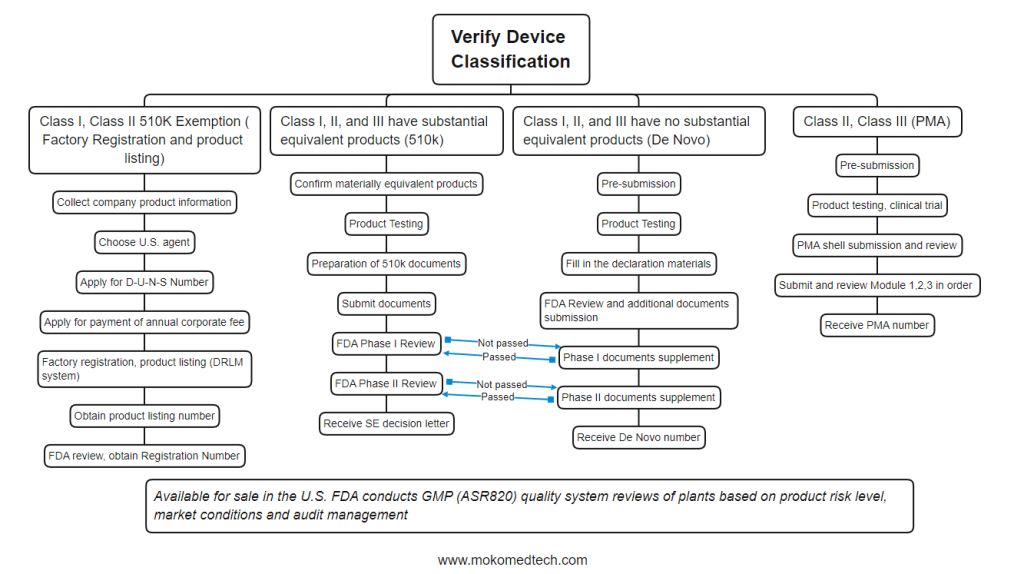 3. Preparation of filing documents
After selecting the correct pre-market submission type, the appropriate information required for that submission type must be prepared. The FDA develops several types of resources to help applicants prepare premarket submissions, including:
– Device Advice: Comprehensive web-based regulatory assistance from FDA
– 510(k) preparation: Refer to Premarket Notification 510(k)
– PMA Preparation: Refer to Premarket Approval (PMA)
– CDRH Learn: Video-based instructional modules, seminars, and recorded webinars including various policies and guidance strengths
Information to consider when preparing a premarket submission.
(1) Design Controls: All Class II and Class III devices are designed in accordance with the requirements for design controls in the Quality Management System (21 CFR 820.30). Some Class I devices are exempt from design controls.
(2) Non-clinical testing: The type of testing and information required to market a device is determined by the device's classification, mechanism of action, technical characteristics, and labeling. Non-clinical tests submitted for implementation prior to the marketing of a medical device must comply with the Good Laboratory Practice (GLPs) in 21 CFR 58.
(3) Clinical evidence: Clinical evidence is required for PMAs, HDEs, and some 510(k)s and De Novos. Prior to the start of an early-stage clinical study, the study applicant will need to obtain approval for an FDA device clinical investigation exemption (IDE). The study also requires approval from an ethics review board (IRB). The clinical study must comply with all applicable device clinical research exemption (IDE) regulations as well as Good Laboratory Practice (GLPs).
(4) Labeling: The labeling of the device must be written in accordance with labeling regulations and needs to be included in the premarket submission.
4. Documents Submission
Submit the information to FDA and stay in touch with FDA staff during the review process.
(1) User Fee: A user fee is required for 510(k) or PMA submissions
(2) Electronic Copy (eCopy): Pre-market submissions must include an electronic copy on a compact disc (CD), digital video disc (DVD), or flash drive.
(3) Administrative filing review: After the premarket submission is received, the FDA conducts an administrative review to assess whether the submission is sufficiently complete to receive a substantive review.
(4) Interactive Review: When a submission is under review, the FDA will maintain contact with the applicant to increase the efficiency of the review process.
5. Registration Completed
Device devices must be registered with the FDA for the company that manufactures them and for the listing of their devices. If a device requires premarket clearance or premarket approval before it can be marketed, the device manufacturer must wait until it receives FDA clearance or approval before registering and listing. The registration of a device company, the assignment of a registration number, or the listing of a medical device does not imply FDA clearance or approval of the company or its products.
FAQ
1. How to check the FDA registration?
Log on to the FDA website and enter the relevant number information to check the information.
2. Is there a certificate for FDA Registration?
There is no FDA registration certificate for FDA registration. The FDA-registered certificate in the market is a promotional document issued by the agency itself, which is invalid. The specific registration documents and information can be downloaded from the FDA's official website.