If you want a shortlist of well selected oxygen concentrator for your easy picking, you are clicking into a right place. This text contains 7 advanced oxygen concentrators reviews.
MOKO MEDTECH OEM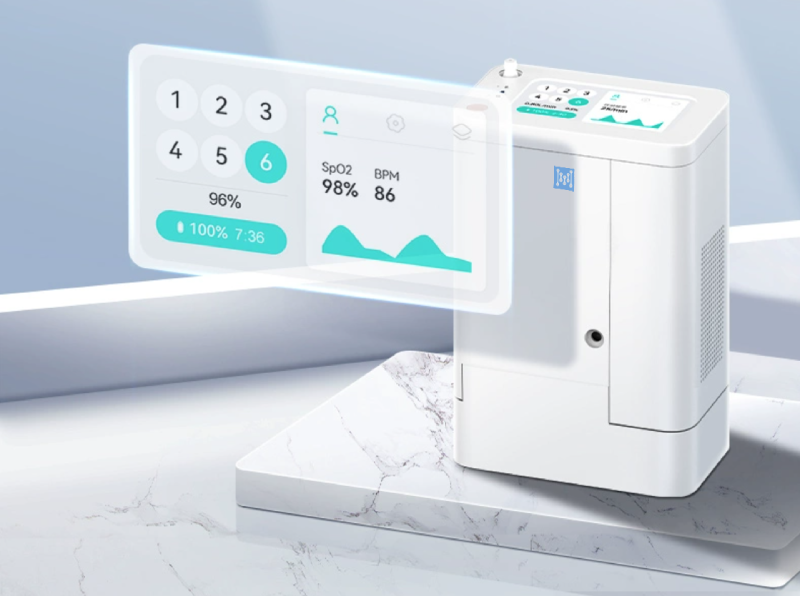 The latest oxygen concentrators launched by MOKO MEDTECH is qualified for the top one honor of 7 advanced oxygen concentrators.
Equivalent output of 8L air flow(96%) fully meets your need even if you are in short breath, realizing basic value of a oxygen concentrators. If you would like to use their bluetooth blood oxygen oximeter simultaneously, the testing data will deliver to the oxygen concentrators via Bluetooth function. This showcases a direct comparison between the output oxygen concentrator from the device and the oxygen saturation inside your body. You can adjust the device according to the final oxygen saturation data of your body.
Besides,Multi-function including oxygen therapy and nebulizing therapy makes it more versatile than other device. Guess how big is this device embracing such advance features? 14*8*22cm only.
HONSIDER (B2C)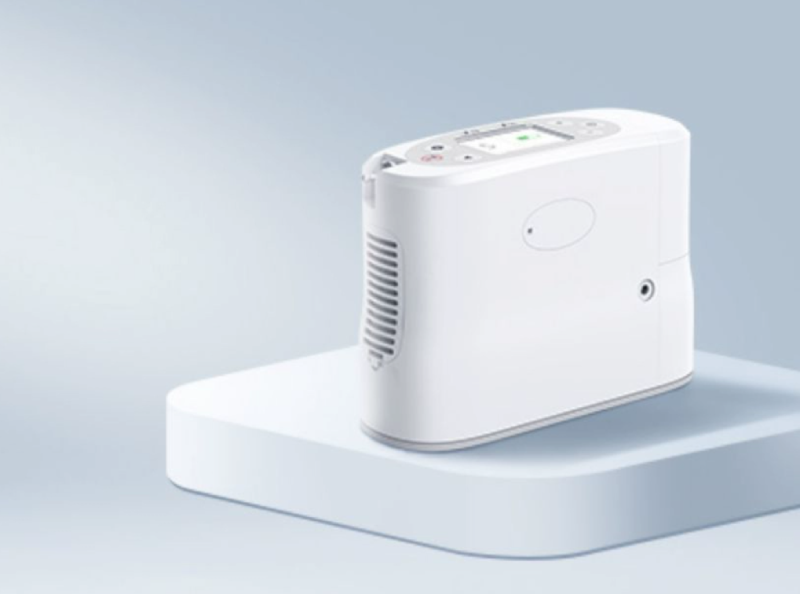 The P2-E oxygen concentrator of HONSIDER features small size, too. With the volume of 22*8.5*16cm, you can carry it during flight, car, home and even highland climbing. Since it is a retail goods, HONSIDER considerably apply FAA certificate for this products, which is necessary if customer want to carry it on flight. What's more, various charging system are equipped inside the device, including household outlet charging adaption, car charging adaption and lithium battery for outdoor charging. This allow customer to use it anywhere.
KRVN (B2C)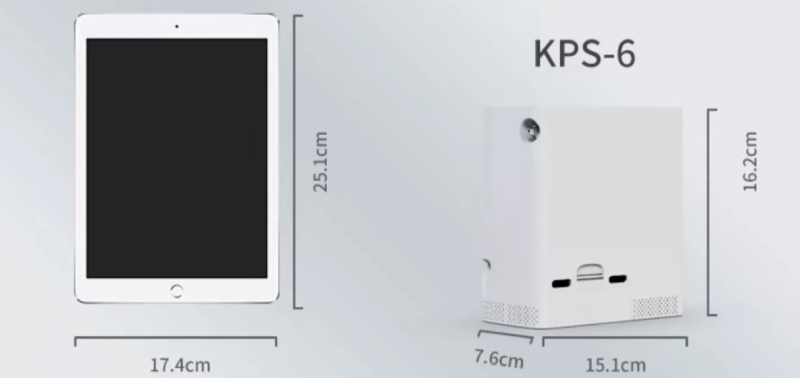 If we call the the size of MOKO MEDTECH OEM and HONSIDER's device "small", KRVN KPS-6 should be regard as a mini one. It is mini as 7.6*15.1*16.2cm and even shorter than your pad. We high recommend this one to those want to go out with POC and suffer slight short breath.
Moreover, the noise of this device is not bad. But if you suffer insomnia, 45db may be noisy for you.
HYNAIT (B2C)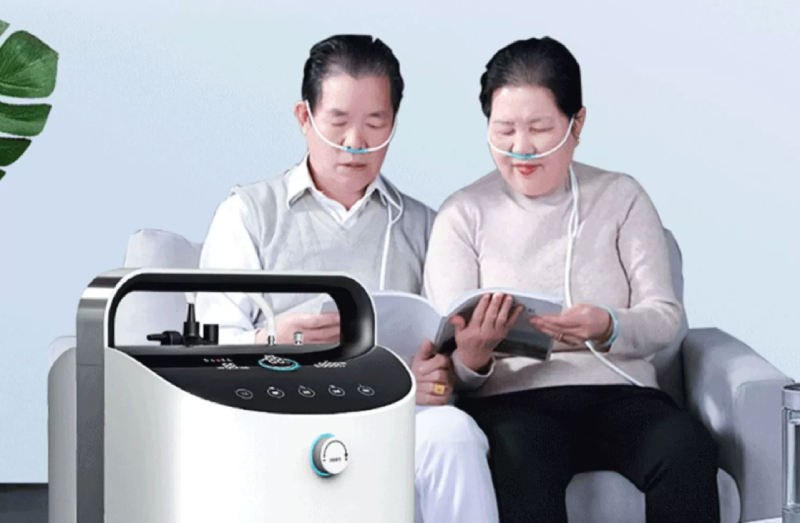 KE-Y305W has a special advantages. It has two oxygen output ports which can individually offer oxygen therapy to two people at the same time. Although it is too big to carry out door, wheels and Handle adapt it to the household. If your older parents suffers from short breath, we advise this one to meet oxygen requirements of two people.
MOKO MEDTECH OEM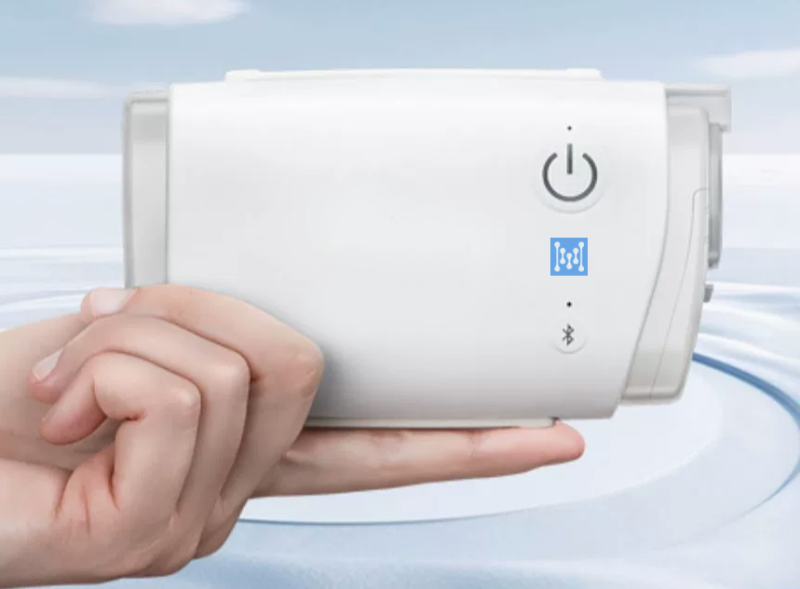 Oxygen Mini of MOKO MEDTECH OEM is very nice device for sleeping oxygen therapy.
It is so mini with on 13.6*8.4*5.2cm that you can even put it into your handbag with ease. Additionally, the device perform quietly during at only 20 to 30dB, which is equivalent sound of curtains blew by wind. Last but not least, it can connect to your smart phone by Bluetooth so as to delivery data. Basically, there is two types air flow as common oxygen concentrator. Pulse dose types will bring you brand new experience due to its advance sensitive system, while continuous flow also performs well.
With such a good appearance design and wonderful features, we suggest using it for travelling and sleeping.
AMONOY (B2C)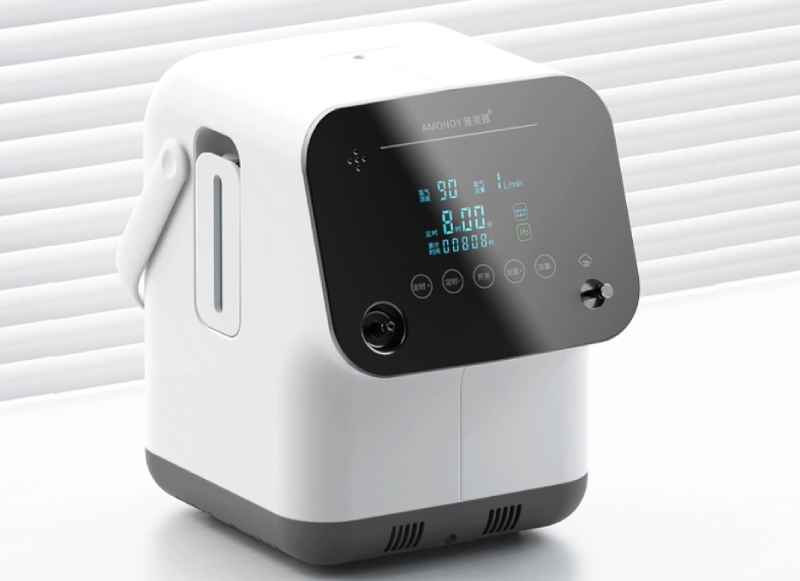 ZY-1SW features its compact design with handle. Most humidity bottle filled with water are just attached on the surface of the device, but we find a surprise design on ZY-1SW. There is a groove on the left side of the device for holding the humidity bottle. And, its handle is rotatable and big enough, promising convenience and stability when lifting the device. What's more, 36dB working noise is good.
If you want a oxygen concentrate at home and on car, the above one may be suitable due to its compact and use-friendly handle. For outdoor using, we don't recommend this because of its heavy weight.
MADE HEART (B2C)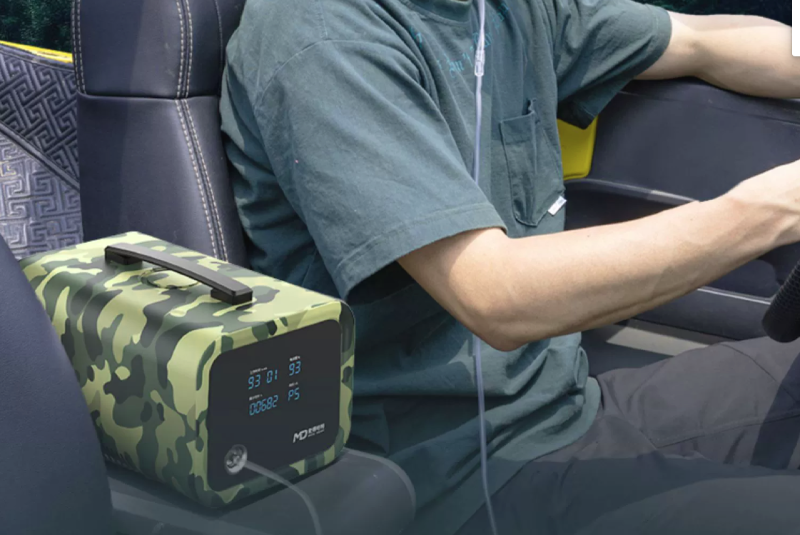 Stable design fits it on the car sit when you driving on the bumpy road in the mountain. If you careful, you may find that the shape of the device is very short and flat. This can greatly reduce shaking due to low gravity center. Besides, 4kg-weight make it hard to jump following the rugged road during driving. And, it can be charged through car outlet, which is also called cigarette lighter charger.
This type of oxygen concentrator is special for the off-road driver. If they pass high altitude localities, this device will offer sufficient oxygen with a stable device.
How to Select a Oxygen Concentrator?
Oxygen concentration
This ratio must be around 90% to 98%.
Flow rate
Generally speaking, an oxygen flow rate of three litre per minutes is enough for homecare oxygen concentrators. However, some diseases which requires higher flow rates should be treated by professional devices prescribed by certified doctor.
Portability
There are household oxygen concentrators and portable types. Portable design is remarkably popular in the market since it can be moved with ease. By the way, household oxygen concentrators has its own advantages. They are stable and generally professional in function.
Noise Level
In addition to the above basic parameters, noise level of an oxygen generator deserved your careful attention. In common, 20 dB to 39 dB, which is equivalent to the sound of swaying trees or light talking indoor, is a recommendable scare.
Power Supply
It largely depends on the types of the oxygen concentrator. Household types often can be charged by the outlet at home, while the portable types can be powered by rechargeable charities. By the way, some are combined both charging system in one device. That would be so nice for charging convenience.
How to Use Oxygen Concentrator?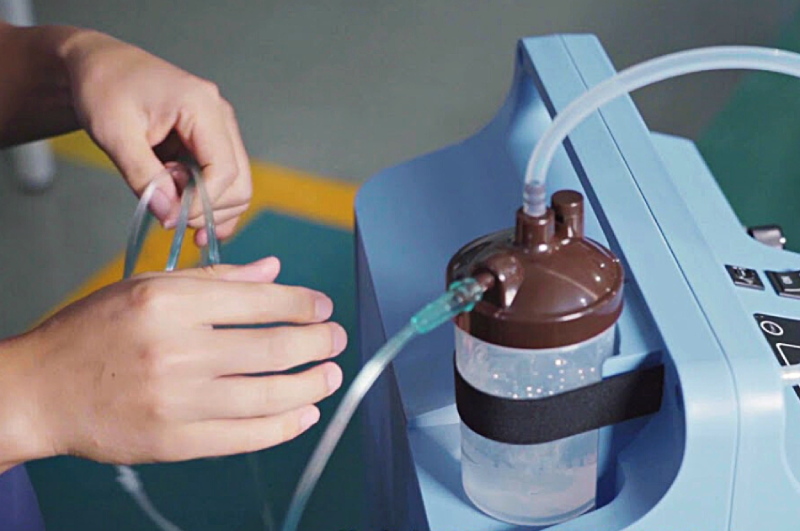 Prepare the Device
Put the device about fifty centimeters away from furniture and walls.
Fill humidification bottle with clean water and connect it to the machine.
Connect the oxygen tube to the humidification bottle. Ensure the air filter is ready.
Get Started
Start about three minutes before using the oxygen concentrator.
Plug it into an household grounded outlet (If household types).
Press the power button to the "on" state.
Adjusting the Oxygen Flow
Switch the knob until it reach the number you require.
It would be better to testing your real-time oxygen saturation during oxygen therapy. Do not using more or less oxygen than prescribed by your doctor.
Wearing a Mask or Nasal Cannula
Check the hose for bends.
Put on a mask to treat hypoxia
Or, insert the nasal cannula up the nostril to get abundant oxygen
Breathe through a mask or nasal cannula
Turn off Device After Oxygen Therapy
Conclusion
If you prefer any medical devices in the following list of 7 advanced oxygen concentrators, please feel free to contact us to get customized samples.