"yes," We can give you a certain answer. As a medical device manufacturer with more than ten-year experience, we witness have lots of order process towards various continuous flow portable oxygen concentrator. Some product features have remained competitive under the rinsing of concentrator market.
Portability: Usually comes with lifting handle, small size, light weight, rolling wheels, wireless rechargeable battery and configured bag.
Continuous Flow: Basically comes with both continuous flow and pulse dose.
IoT: It usually realizes by inserted Bluetooth module or SD card.
Oxygen Purity: Above ninety percent.
Noise: between twenty and thirty dB to avoid sleeping disturbing.
What Is A Continuous Flow Portable Oxygen Concentrator?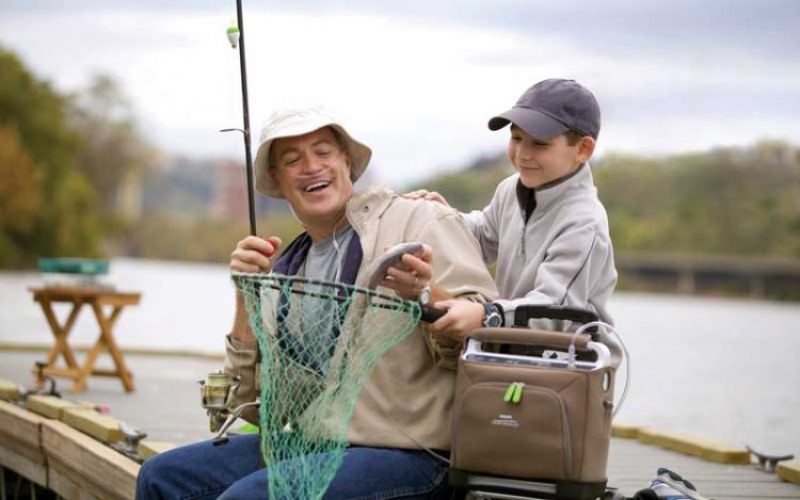 Continuous flow oxygen concentrators provide a constant flow of oxygen by an oxygen mask. Portable continuous flow usually serves two types of flow. That is, you can choose between continuous and pulsed flow oxygen delivery.
What Is Differences Between Pulse Flow and Continuous Flow?
Pulse Flow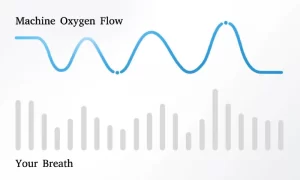 Pulse flow oxygen delivery sensitively follows your breathing and inhalation. It tailors the oxygen delivery rhythm to your breathing rate.
Continuous Flow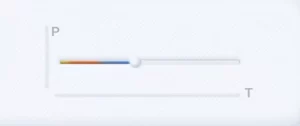 In contrast, continuous flow (CF), delivers oxygen at a constant rate, which can be adjusted by user, regardless of the user's breathing. Oxygen output rate could be measured in liters per minute due to its constancy. Undoubtedly, it is a great oxygen supplier when sleeping, especially for those suffer high risk of sleep apnea.
Supplemental oxygen is often prescribed as a short-run or long-run therapeutic intervention. It is helpful for patients with diseases interfering their normal breathing, such as cystic fibrosis, chronic obstructive pulmonary disease (COPD), or sleep apnea.
What We Source For In A Continuous Flow Portable Oxygen Concentrator?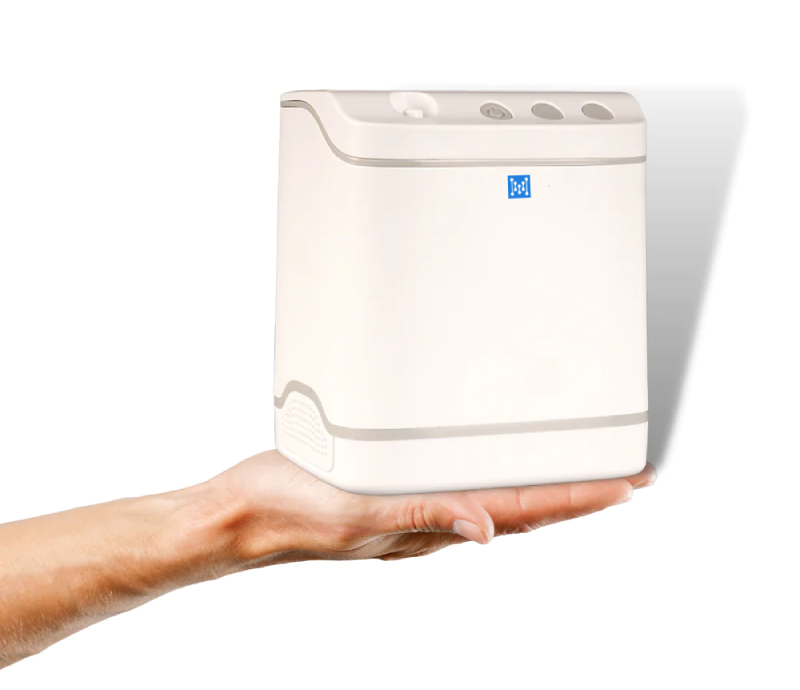 Weight
If your target customer prefer taking this device anywhere, the best choice is wearable design or one that isn't heavy. Otherwise, it is very troublesome to handle such a large device during transportation. Generally speaking, continuous flow portable concentrators weigh about twenty pounds in average. Unavoidably, the more powerful the device is, the heavier it will be. In this case, it is advisable to source oxygen concentrator with handle-friendly design, such as rolling wheels, lifting hands, and accessorial device bags.
Noise

Another original disadvantage of concentrator is the noise. Naturally, all devices make noise when they're running in formal, but you can still pick something that isn't that loud. Meanwhile, if you are facing such high risk of sleep apnea that you have to wear oxygen concentrator during sleep, it is necessary to source the devices with low noise to ensure high sleep quality. According research, we highly recommend oxygen concentrator with noise below 30dB.
Noise and Effect

0~20dB: Barely feel the sound. So quiet.

20dB: The sound of breathing when a person is calm. Does not disturb sleep quality.

30dB: The sound of a soft voice. Does not disturb sleep quality.

40dB: A continuous noise of 40dB will affect the sleep of ten percents of people.
Flow Rate
When considering this factor, it is best to refer to your doctor's prescription. It usually includes how many liter per minutes of oxygen you need for a certain period of time.
Some brands provide up to ten liters of oxygen per minute, while others only can offer, to large degree, three to five liters per minute. It is best to choose adjustable device with higher maximum flow rate to suit doctor's prescription as much as possible.
If you want to know whether continuous or pulsed flow fits your situation, ask your doctor.
Oxygen Delivery
No matter for the terminal consumer or wholesaler, oxygen delivery is the most fundamental function of a concentrator, so we should careful consider it before purchasing. Concentrators with good quality can promise ninety percents to ninety-five percent pure oxygen. If a machine cannot output oxygen with above ninety percent purity, it may play a weak role in oxygen therapy which ensures users' health.
Some prescription requires a specific oxygen purity based on patience situation, so be sure to clarified this requirement to the salesman when your select or customize devices. That's very important because a proper oxygen purity of the device can ensure your oxygen saturation levels stable, especially for those suffer from serious breathing diseases.
Purchasing Cost
In retail market, the purchasing cost significantly depends on the origin place of the component, size, weight and function.
| | | | |
| --- | --- | --- | --- |
| Origin place of the component | Size & Weight | Function | Price |
| European | 14*8*17cm, 1.5kg | Continuous Flow & Pulse Flow | ¥2580 |
| Australia | 13.6*8.4*5.2cm,0.3kg | Continuous Flow, Pulse Flow & Bluetooth | ¥6980 |
| China | 9*16.5*18.6cm,2kg | Continuous Flow & Pulse Flow | ¥3480 |
Product Quality
Oxygen concentrator with an FAA approval will be one of the reliable and most safest choices. If you plan to travel by air with your device, take FAA approval into consideration because airlines may require that for patients flying with medical devices.
Manufacturer's Qualification
If you are procurement sourcing customized concentrator for your brand, it is necessary to know more about manufacturer than just only the product itself.
ISO13485 is a certification which approve the quality assurance capacity of the manufacturer. If you just buy one devices, it may not understand how a sophisticated quality control system effect. But if you purchasing a batch of medical device with customized features, you will certainly surprise about the stable quality of each unit under the control of ISO quality system.
After-Sales
In order to make sure that the oxygen concentrator is effective and reliable, there will be, commonly, a warranty that ensures it can be replaced or maintained by the manufacturer for device malfunction. The warranty period is usually three years, although most devices last much longer than 3 years. Some cheaper device doesn't come with a warranty, but increases the risk of extra maintenance cost or troubles if it breaks in the future.
Takeaway
If you have any question about portable oxygen concentrator, please feel free to leave message to us and we are pleased to give you feedback.
Continue Reading as follows