How are you? We are MOKO MEDTECH, a medical device manufacturer handling orders of various customized products. Today, we summarize, according to our research on orders and the market, four typical hot-selling portable oxygen generators. Meanwhile, we pick some tremendous designs in detail for portability.
If you are a retail customer, we advise you to note these tremendous features, which can nicely take care of your oxygen therapy at home. If you are an engineer of a medical device brand, these designs may inspire you.
Top 4 Portable Oxygen Generators

Patients should consult a professional physician regarding symptoms of shortness of breath. Also, patients must receive arterial blood gas analysis or arterial partial pressure of oxygen and oxygen saturation measurements.
According to the measurement results, the doctor will provide guidance on oxygen therapy if you want to conduct it at home, such as the duration of oxygen inhalation, the flow rate of oxygen inhalation and the optimal time period of oxygen therapy. On the one hand, this promises appropriate healing effects. On the other hand, this avoids the risk of oxygen poisoning and pulmonary encephalopathy.
The content of oxygen therapy should be recorded correctly, including the time of oxygen therapy, the flow rate and the feeling of the condition after oxygen therapy. An accurate and complete set of data records provides a strong basis for doctors to adjust treatment plans in follow-up visits."
Bluetooth oxygen generators is born to simplify this problem. Pairing to bluetooth, your phone will receive the data of each oxygen therapy and even your feeling after each therapy, then organize in a clear table. This avoids the prolix workload of manual recording.
This is very helpful for your home oxygen therapy, without the care of a professional nurse.
Wheeled Oxygen Generator
Universal wheels provide free and soft moving of the machine. This allows you to enjoy oxygen anywhere. Besides, external humidifier keeps moisture for your nose to avoid dryness of nasal cavity after long-time therapy. Last, the detachable filter eases cleaning for itself in regular period.
Mini Oxygen Generator
This type of mini oxygen generator is very compact, with a groove for handling. And, it only weighs 5.5 kilograms. You can even put it on your car seat and carry it outdoors. By the way, such a mini size is also very nice to put at home for household oxygen therapy.
Backpack Oxygen Generator
This wearable back pack oxygen generator is special for outdoor use. The control panel is exposed on the top of the bag, bringing convenience for pressing buttons. The bag is made of bungee cords, ensuring the oxygen generator is not blocked by thick velcro. More and more, multiple pockets are for messy accessories organizations. Surprisingly, the rear velcro design offers easy access to battery. That means you don't have to take the unit out of the backpack to charge. Besides, a patented velcro design allows cannula to escape without crimping. In addition, there is a bottom which carries the backup battery. You can detach it from the main device if you don't plan to replace the battery.
How much do portable oxygen concentrators cost?

It depends.
First of all, the quality of some important components will affect the price. If the oxygen generator is equipped with national molecular filter or national air compressor, the cost will accordingly rise. These components are important to the performance of the oxygen generation, the cleanliness of the output oxygen and the noise of the machine.
The total capacity of oxygen also affects the price. In the market, there are household oxygen generators of one-liter, two-liter and three-liter. The one-liter and two-liter machines are suitable for home health care, while the three-liter machine is suitable for patient therapy. Generally speaking, the higher capacity the device is with, the higher price it is in.
How long will a portable oxygen concentrator last?

In common, it can last 3 to 5 years. But if you want a longer span, we suggest that you should note its CE mark and warranty period. Getting a CE mark requires lots of documents. Firstly, the seller should prepare all the basic information about the device, such as its safety design document, list of main components and so on. Secondly, they should prepare for the register certificate within the European Union. Importantly, the oxygen concentrator should past the EMC test, LVD test, RF test. CTR test, SAR test and so on. Such these tests can greatly ensure the quality of the product so that the life-time of the product must not be short.
For brand purchase, we advise you to choose the manufacturer with ISO13485 and ISO9001 verification. These two certifications also present the level of quality management of the factory.
Do you need a prescription for a portable oxygen generator?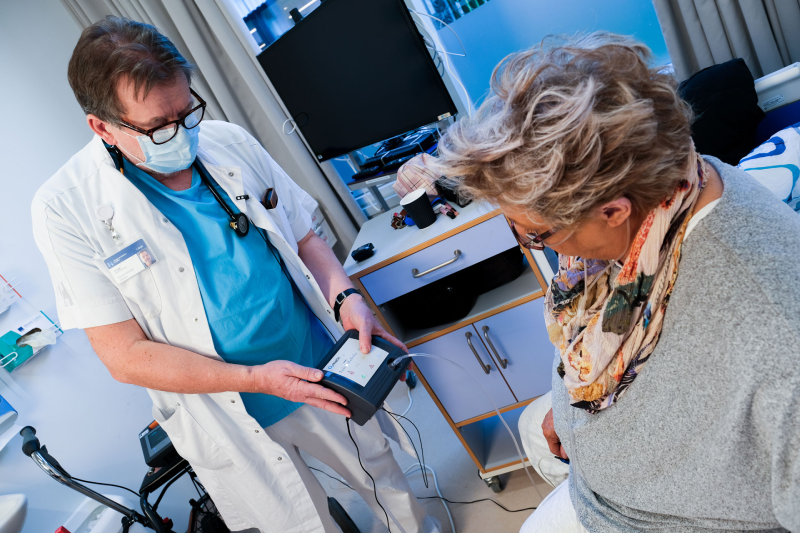 It is Class II Medical Device according to FDA regulation. And the regulation suggests that you need a prescription from a certified doctor to buy a portable oxygen generator.
If you want to import a batch of portable oxygen, please, in advance, select a qualified manufacturer with ISO13485 and others. And, we advise you to learn the import regulation of medical devices of your nation so as to go through the formalities later.
Why You Trust MOKO MEDTECH OEM?
As a medical device manufacturer, we MOKO MEDTECH possesses ISO13485 certification and does well in quality management of medical devices. Meanwhile, we have great experience of making bluetooth module, developing your brand to IoT level. Last but not least, we are capable of supplier management on quality assurance and cost saving. We manage to offer good cost-effective customized products to all medical device brands. So, if you have any inspiration for portable oxygen generators, we are pleased to welcome your customized orders.